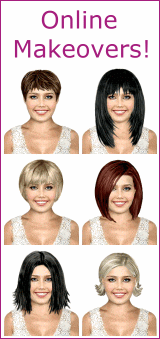 Lipstick Advice
The classic cosmetic that no gal can live without, lipstick, is often the first thing we change when we're wanting a new look. Who can blame us? They're relatively cheap, portable, and easy to apply. Lipstick can be classy or trendy, bold or barely there, sexy or simple.

It's no wonder that the latest trends in lipstick change faster than Ashley Simpson's hairstyle. Plus, there is no one style or color that's in style. How do you know which look will work for you? It'll all in what look you're striving for.

Color. This season's colors have gotten away from the brilliant reds of last years, and even the cotton candy colors of the summer. This fall, warm is in. The natural, nude look is still very popular. If this is the look for you, neutrals in brown tones are the colors you want. Wanting something a little more noticeable?

Rich browns, like coffee or chocolate, will add some boldness. If you like a more sweet and feminine look, pink is this season's red. A light pink offers a romantic tone while a deeper, richer pink adds more sass. Also, metallic colors can accent this fall's clothes colors, like silver and platinum. Wearing a silver lipstick with a pink lip gloss will add a complementary, feminine touch to your fall style.


Matte. The matte finish has always been the traditional finish. It offers a classic look. Because of the flat look, you can mute the look of your lips, especially important if you are trying to accent another feature, like your eyes. On the flip side, a matte finish can offer drama. Very dark colors, like chocolate brown or deep berry, can appear bold and dramatic.

You can also add shimmer without adding gloss. After your lipstick has set, apply a shimmery, light-colored eye shadow to the center of the bottom lip. Smack your lips together once to distribute the eye shadow to the upper lip. The eye shadow will draw light to the center, making them look fuller.

Glossy. The glossy finish has been very popular as of late. Because light shines off the gloss, it gives lips a full, pouty look. Lip gloss is very versatile. A sweet, light pink can add an understated slash of color and shine. It can also help darker colors to pop and shine. Like clothes, layering is in.

For a bit of drama, start with a lip liner in a shade slightly darker than your lipstick shade. Fill in the entire lip with the liner. Cover with the lipstick and top off with a matching lip gloss. Mix and match your lipsticks and lip glosses for fun, flirty, sassy combinations of color.

As with any style, the best advice is to relax and have fun experimenting with what works for you. Bold and dramatic, soft and romantic, matte or glossy, the choices are yours.

©Greatestlook.com


Related Posts:
Beauty Q&A
Lips and lip care