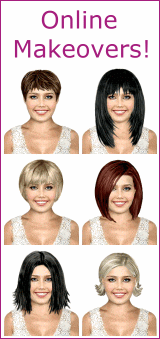 The Sophisticated Look
Sophisticated Tips for Sophisticated Women
Look out, ladies, the 80's are back! That's right, many of the masculine styles of the 80's are back in fashion, but with a softer, more feminine twist. Here are some tips to pull off a modern, retro look without looking like you've been through a time warp.

First, choose the right color. Black is the new black this season. Snazz up the black with accents in red, silver, or cream.

Emphasize that feminine silhouette. Even though the dress shirt and tie is back in with a vengeance, you still want to look feminine. Bring the waist in and show off your feminine flair with a scarf belt. Ditch the shoulder pads to allow for the gentle slope of the shoulders. Wear a long cardigan that skims the hips. Sport a pair of sexy stilettos under long trouser pants. Mix and match the masculine and the feminine. Wear a silk shirt and flirty skirt with a man's blazer.


Choose soft, touchable fabrics. Silk, satin, crepe, soft cotton. These are the materials you'll be seeing (and feeling) a lot of this fall. To help soften the masculine styles, soft materials are being used. One of the hottest items this fall is the silk turtleneck. Scrunch the turtleneck instead of folding over for the latest look. Blazers are coming out in crepe and soft poly-blends instead of wool. If it feels good against the skin to wear, it's the material you're looking for. Another throw back from the 80's that's making a huge comeback - the body-clinging knit sweater dress.

Layers, layers and more layers. Everything is about layers this fall. For those warmer days in early autumn, wear two polo shirts, the bottom buttoned all the way up, the top left completely opened to reveal the polo shirt underneath. As the season gets colder, wear your silk turtleneck and a dress shirt underneath a jacket or long cardigan. Layer a tiny blazer from the boy's department over a dress. Wear two cardigans, pushing the sleeves up of the top one to expose the one underneath. Play with patterns and color. Wear two completely different blouses, buttoning only one button at the breast to show off the blouse underneath.

The Must-Have pieces for the season. Don't wear wool in your suits, wear it in your pantyhose! Wool tights, even colored wool tights, will be peeking out from under every style and length skirt this fall. Speaking of skirts, try the flattering trumpet skirt. A great piece for anyone with large hips, the flare of the skirt adds a feminine shape while still detracting from the hips. The long cardigan will add another all important layer to almost everything you wear. For a slimming effect, wear all one dark color underneath a light colored cardigan. The look creates a slimming vertical line. Wide-leg trousers brings out that masculine look, but this season's soft fabrics, like fine wool crepe, gives it a feminine appeal.

How to wear what you've got. The high neck look is in this season. Button everything up to the top button in all bottom layers and turn up the collar on all top layers. Even if you wear a turtleneck, sport a blouse over it, buttoning most of the buttons (leave one or two open, depending on how close together the buttons are), and turn up the collar. Put unexpected things together. For a little drama, pair a polka dot blouse with a stripped blouse. For runway drama, wear a military top with a feminine, voluminous skirt. Use accessories to feminize the masculine clothes. Velvet ribbons for a belt, big, chunky necklaces over a male suit, red stilettos under black trousers. The most important thing is to have fun mixing and matching masculine and feminine styles!

©Greatestlook.com

Related Posts:
Ideas for turtlenecks
How to wear blouses