Choosing the Right Tie (2)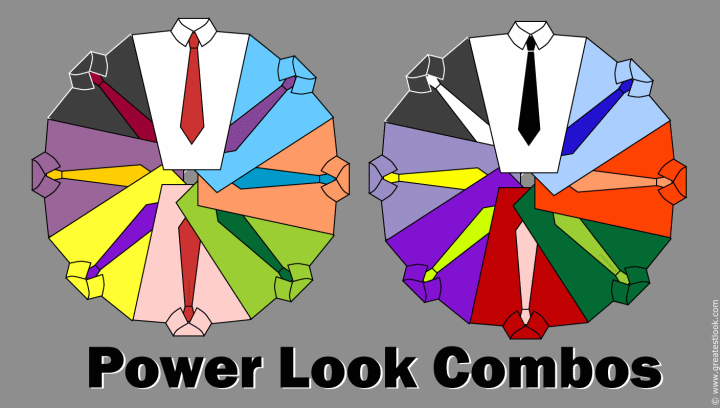 Previous page

Novelty Ties: These include the classic fish tie, or the keyboard tie, or the hand-painted tie with the hula dancer on it; basically, any number of images and icons used as graphics on a necktie. They can also include ties made of non-traditional material, such as leather and rubber ties, bolo ties, chain-mail ties, etc. These types of ties are great accessories for situation where it's okay to be funny, or show your whimsy, but they are inappropriate when you need to present a professional or dignified appearance.

The Monochromatic Look: This has become a popular look among professionals and those who want a slick look. It involves shirts and ties coordinated in the same color and in some cases the same shade of the color. Usually the difference in the color is created by the texture of the fabrics used for the tie and shirt. These create a very dramatic and in some cases bold look that is flattering and easy to coordinate.



Traditional: These are your classic ties in a solid color, or simple stripes or small-pattern designs. These are the ties that you wear for the majority of your dressier functions and business situations.

The Power Tie: These are ties that are typically in a very bold color – such as red – or a bold and expressive pattern/color combination. These ties are called power ties because they make a statement and are typically worn in situations where you want to "stand out" and draw attention to yourself. These power ties still need to be color coordinated.

The Match Game:

The toughest part of choosing a tie often comes when the shirt you are planning to wear isn't a classic white dress shirt. Perhaps it is a different color, or has a pattern or stripe. Here are some simple things to remember in dealing with colors, patterns and stripes.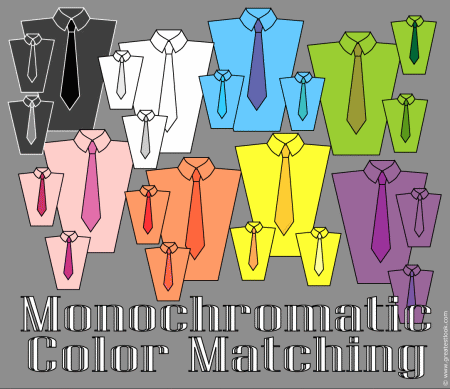 Colors should complement or blend. Most colored shirts are pastel in color and you can use a darker shade of the pastel color with ease, as in the case of Monochromatic color matching. The shade doesn't have to be identical – you could pair a pale blue shirt with a darker blue tie and vice versa. You can also use other colors depending on the effect you desire.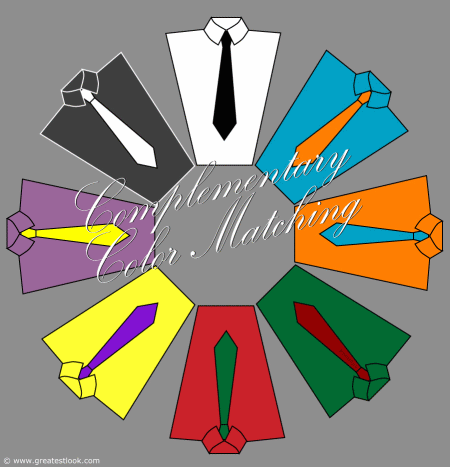 With complementary colors, you use a color that falls on the opposite side of the color wheel to make the colors contrast and appear more vibrant. This can create some bold color results. If you're still having trouble deciding which colors will work well together, think of nature.

If two color shades coexist in a natural setting, they'll probably work well in your clothing. For example, you could pair "forest green" easily with a pale pink, rosy red or sunflower yellow. As always, black, white and other neutral colors work with nearly any other color in the spectrum.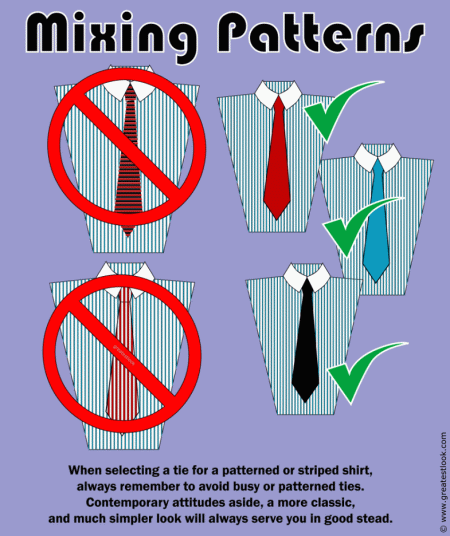 Use extreme caution when mixing patterned or striped shirts with patterned or striped ties. Modern designers and style gurus tout the "hip and funky" effect it creates, but that only works for you if you look good in hip and funky. And in most situations that call for a tie, you don't want to look funky, you want to look classy.

I personally recommend that if you have a patterned or striped tie, you should pair it with a solid color shirt. Conversely, if your shirt is patterned or has stripes, you'll be safer choosing a solid color tie, however, you can use the pattern or stripes in the shirt to select a color for said tie and can create a classy look that isn't boring.

Keep these tips in mind and you'll have no need to worry overmuch about looking right in different situations. Just remind yourself to think of the setting you will be in, choose colors that complement or blend and keep the look simple.

©greatestlook.com