Healthy Foods and Beauty (2)
Previous Page

Pomegranates – Inside

Pomegranates are considered to be one of the most antioxidant-rich fruits available, containing even more inflammation fighting antioxidants than red wine or green tea. The fruit has been long prized in many cultures for its health-giving benefits, but has only recently seen an emergence in its prominence in the U.S. and other Western cultures.

Open the pomegranate fruits and remove the seeds (the edible part of the fruit). You can do this by scoring the rind and soaking it briefly in cool water then breaking the rind away from the seed-filled segments. You can then enjoy the pomegranate seeds alone or pair them with a rich, soft cheese (or any cheese you prefer).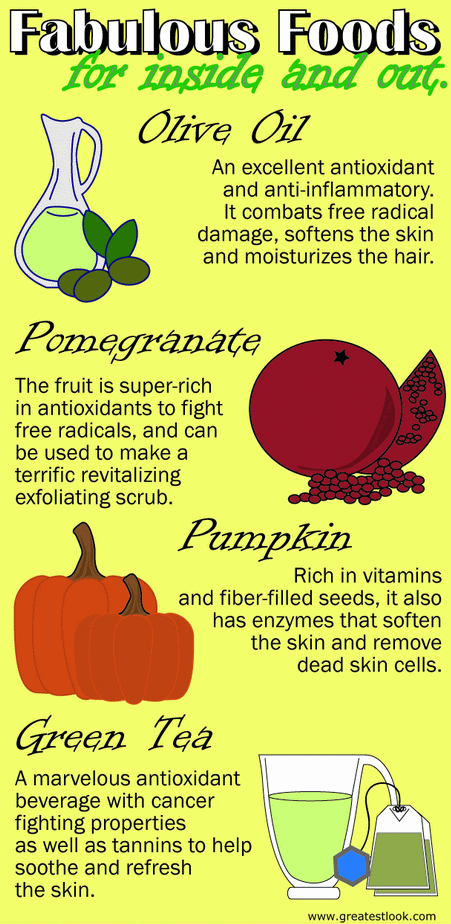 Pomegranates – Outside

Pomegranate is also wonderful for removing dead skin cells and freshening up dull-looking skin.

Use as a Skin Scrub: Take two tablespoons of pomegranate seeds and combine them with 1 cup of uncooked oatmeal in a blender or food processor. Once pulverized together, add in 2 tablespoons each of honey and buttermilk. You can use this as a facial scrub to exfoliate the skin by applying a small amount and massaging it in gently for a few minutes, then rinse it off.



If you want to use it for rougher patches of skin, add ½ cup of coarse sugar (like turbinado) or sea salt to the mix and massage it over the rough spots for a few minutes before rinsing it away.

Green Tea – Inside

Another of the great antioxidant foods is Green Tea. It's soothing and relaxing and full of inflammation-fighting antioxidants. It's also been shown in university studies that drinking it may reduce your risk of some skin cancers.

Boost the body's antioxidants: Drink at least three big mugs of green tea each day, and add a generous squeeze of lemon juice, lime juice or orange juice to your tea to boost the staying power of the antioxidants in the body by preventing them from being digested too quickly.

Green Tea – Outside

Green Tea also contains tannins which act as an astringent and makes for a wonderfully refreshing toner for the skin.

Make Soothing Eye Compresses and Skin Fresheners: Chill dampened tea bags in the refrigerator and place them on the eyes for 10-15 minutes to soothe tired and puffy eyes. Then use the bags to gently wipe the skin and remove trace oils and cleansers from your face, leaving the skin feeling fresh and soothed.

©greatestlook.com