The Use of Blushers
History of Blush

The use of blushers as a part of a woman's cosmetic routine is pretty commonplace. It serves many purposes and, like most cosmetic applications, has a basis in nature for its use. The idea is that traditionally young women were often surprised as they were introduced to various aspects of the world – regardless of the eras in which they grew up.

Whenever a young woman experienced a new "first" she would often become shy, unsure and slightly embarrassed causing a physiological response and a rising of color in her cheeks. Older women, who were often inured to the way of life would rarely blush, thus the rosy cheeks became a sought after look.

Women would pinch their cheeks in order to bring up a rosy glow, sometimes dabs of red berries or even droplets of blood would be rubbed into the skin for a pinkish appearance. As lip color took off, it was often put to multiple purposes with application to the lips, and a dot to each cheek to be rubbed on for a blushing effect.



How to Apply Blush

For an Oval Face: The perfect-shaped face needs little help from blush. But here are a few tips: For a natural look, apply blush onto the apples of your cheeks for a flushed, healthy glow.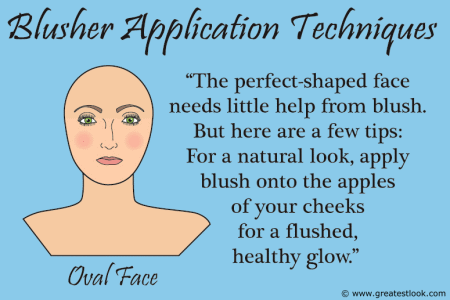 For a Square Face: Soften the angles of your cheeks by applying the brighter color blush on the apples of the cheeks then sweep the blush towards your temples. This causes the eye to look up, taking away from the sharp angles of a square face shape. You can also contour to round your jaw line, by lightly dusting some blush from your chin to just below your ears.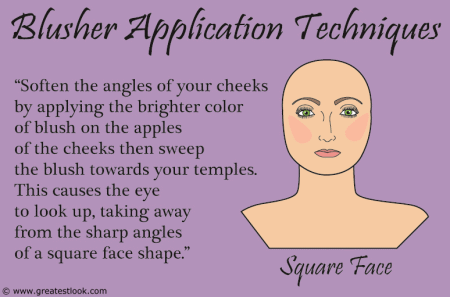 For a Round Face: Apply blush to the area above the apples of your cheeks and blend slightly forward to thin the round face. Avoid getting the blush too close to your nose; this highlights the roundness of your cheeks.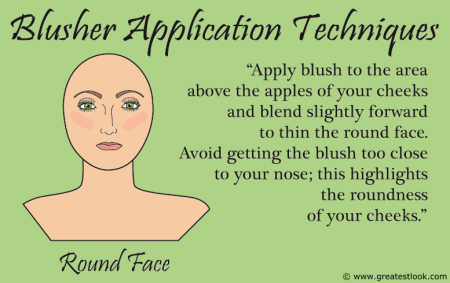 For a Long Face: To create the illusion of width on a long face, apply blush to the apples of the cheeks and extend the blush outward towards your ears. Next, sweep your blush across the middle of your forehead and along your chin line. This effect will shorten your long face.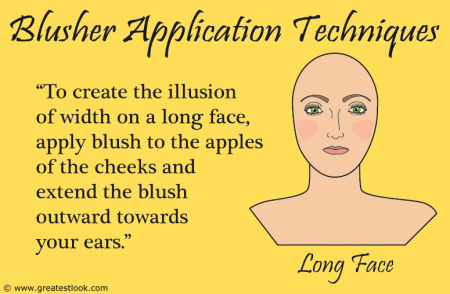 Next Page