Neckline Styles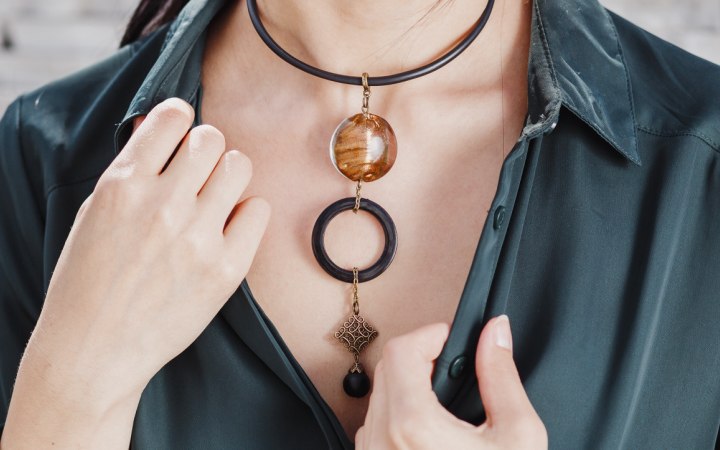 Looking Good from the Waist Up

I'm often asked the question, "Why doesn't this blouse (or dress) look good on me?" Nine times out of ten the offending garment has the wrong style of neckline for the person in question. Wearing a garment with the wrong neckline can ruin the entire look you are trying to achieve.

Fortunately there are some simple rules that will allow you to make good choices for flattering necklines. The type of neckline you need is based on a number of different factors: face shape, body type, and bust size. But before we get into the rules, let's take a look at the options out there and how to identify the different neckline styles.



Different Neckline Styles:

For our purposes, we've broken down the various neckline styles into three categories: Conservative (Formal), Revealing (Formal), and Casual necklines. They are obviously grouped by common themes. The Conservative (Formal) and Revealing (Formal) are all styles commonly found on formal gowns and fancier dresses, while the Casual necklines are just that, neckline styles commonly found on casual wear. The Conservative and Revealing categories reflect how low these necklines plunge.

Conservative (Formal):

These neckline styles tend to rest high on the chest and very seldom show any cleavage at all. They are generally good choices for women with smaller or more average-sized chests.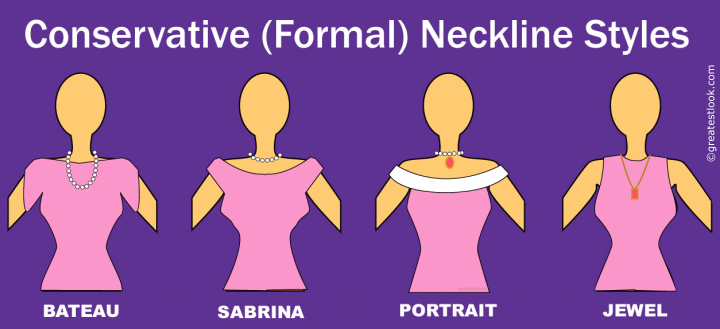 Bateau: The bateau neckline (or boat neck) is one that closely follows the collarbone. It is a good choice for women who have well proportioned necks and heads, but who wish to present a more conservative appearance. Blouses and dresses with a bateau neck tend to be very blousy and are excellent choices for women who are pear-shaped as the slight widening effect of the neck will help to balance the upper and lower halves of the body, and the dress will usually skim over the problem areas of the lower half.

Sabrina: The Sabrina neckline (called thus because the look was favored by the famous Dutch-British actress, Audrey Hepburn's, character in the movie of the same name) is basically a wide, shallow, curving neckline that drops to within an inch or two of the collarbone, and extends almost to the shoulders on the sides. It makes an excellent look for women with narrow necks and thin faces, because it makes them appear wider. The dresses with this style of neck often are more tailored in the bodice with an A-line or flared skirt, giving a very feminine silhouette.

Portrait: The portrait neckline is similar to the Sabrina style neckline, except that it is usually lower-cut, and features a shawl-like addition that drapes around the shoulders. It is a style that is very flattering for a number of women and was often chosen by women as a style to wear when sitting for portraits, hence the name. The low, wide scoop offers a flattering view of the skin on the chest, without revealing the cleavage, and is one of the most feminine and classic looks in women's fashion.

Jewel: The jewel neck is a high, close neckline style that closely encircled the base of the neck and covers the tops of the torso to the shoulders. The look is almost always sleeveless and the dresses featuring this style tend to be very tailored and sleek of silhouette. It gets its name from the fact that the neckline style is often selected in order to present a backdrop for showing off a particularly special piece of jewelry. It is not a look recommended for more plump women, as the sleeveless look tends to be unflattering.

Next Page Last Page