Advice for a Dress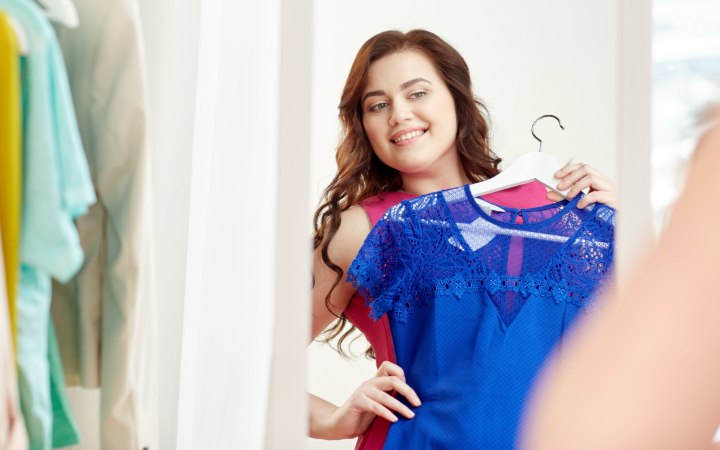 Q: I'm a bit fat & short. Please advise me on the best suited dress.

A: Well, in order to best accentuate the positives in your figure, you need to remember two things: vertical proportion and vertical line.



As a "petite" (short) woman, you need to make sure to keep the proportions of your clothing in scale with your build. This means that your skirts should fall at or slightly above/below the knee rather than going for the super-short or calf-length/tea-length styles that come into and out of fashion. These longer but not full length skirts (and the super-short and mini-length skirts) only serve to reinforce the lack of height.

In addition, keep in mind your physical proportions. Are you long-waisted or short-waisted? Are your legs long or short? If you are long waisted, or have short legs (the two usually go hand-in-hand) you'll want to avoid belted dresses so as to blur the exact point at which your legs begin. On the flip-side, a dress with a dropped waist can help to balance the look of a body with a short waist or long legs.

Depending on how your body is shaped (you said that you were 'a bit fat' so you have to consider whether you are more apple shaped or pear shaped) you will want to choose dress elements accordingly. If you have a bit of a belly, select an A-Line dress that will skim over the belly area and help you camouflage the bulge. For those women who carry most of the weight in their hips, I suggest a jacketed dress with a non-tailored jacket which will help to create a balance between the shoulder and hip areas to even out the build. Keep your skirts and dress hems A-line or even fitted if you are comfortable with the style.

That ties into the concern for maintaining a vertical line. With a plump build, on a short frame, you want to create as much 'up and down' visual emphasis as you can. This means avoiding things like horzontal stripes, wide necklines, flared skirts and hems, or thick, dark belts. Keep your colors monochromatic if not in the same exact shade. And if you have to wear something with a pattern, keep it simple and small. A large patterned fabric on a petite build only emphasizes the lack of height.

© Greatestlook.com
Photo: Syda Productions/Shutterstock

See also:

Body shapes and what to wear

What clothes would be flattering for a short person with a big chest?