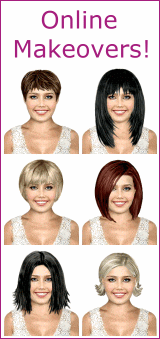 Pictures of Hairstyles
Digital Hairstyles
Try out hairstyles of different lengths on a photo of yourself.

Pictures of Hairstyles
Photos of hairstyles designed by leading hair stylists. Includes short, medium and long styles and celebrity hairstyles. Most styles come with a description and styling instructions.

Celebrity Hairstyles
Photo gallery with pictures of short, medium length and long celebrity hairstyles. Comes with instructions on how to style your hair for these looks.

Hairstyles Plus
Photos of hairstyles of different length. Also information on how to choose a good haircut.